Today's the day.  Yes, that one. The one day of the year that kids dread and parents celebrate. The 1st day of the new school year. Summer's officially over!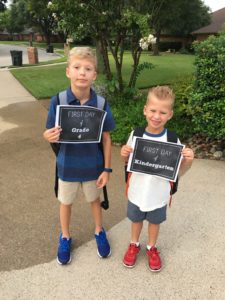 My social media feeds are filled with tons of wonderful pictures celebrating their child's 1st day. While today our focus is on the the 1st day of Kindergarten and 4th grade, we should also keep a sharp eye on the future. Because, like it or not, our kids are growing up. And college, well, it's right around the corner.
We all can agree on the importance of college education. In fact, research has shown that college graduates earn on average 74% more than high school graduates and experience lower unemployment.¹
We can also agree that college isn't cheap. In 2015, the average in-state cost for a public school was $20,800. Attending a private college would set you back ,on average, $45,200²
That's why it's important to formulate a plan and to start a college savings plan – today. Saving for college doesn't have to be a daunting task.
In a few easy steps I can help you:
1.) Create a college savings plan designed specifically for your child
2.) Choose the right kind of account for your college savings
3.) Recommend an appropriate mix of investments for your individual situation
Have questions? Ask today.  Click here to contact me today.
-David
---
¹ Georgetown University Center on Education and the Workforce (2011) and the Bureau of Labor Statistics (2015).
² National Average Cost Data: ©2016 The College Board, "Trends in College Pricing 2015"
---